When I started translating, some time at the end of the previous century, it seemed obvious to me that the application I should use for translating is a word processor. A word processor is what you write and edit documents with, and what you want to create is a document, so that's the thing to use.
When I just started out, I often got the source text as a hard copy. Even when I got the source text as a file, I couldn't put both files on screen side by side, screens were much smaller then. For a few years, I would finish a translation, print it out, go to another room, and go over the printed copy, marking my corrections there, while also checking it against the source, to see that nothing has been missed, or misunderstood. These tasks, checking and double checking your work, additional editing and rephrasing, making sure the terminology is consistent, which are an essential part of the translation process, are not tasks one does easily on a word processor. A word processor will not synchronize the scrolling of two documents for you so you can see the source and the target side by side.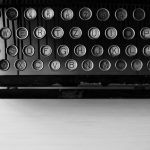 On some mailing lists I was on I've seen mentions of translation memory software. There were a lot of opinions about how useful it was for various kinds of translation, and about the business practices of various vendors. When an agency I did a few jobs for required the use a specific type of TM (Translation Memory), one of the less expensive ones at the time, I figured I might as well see what the fuss is about. The TM software certainly offered some perks. It showed me previous translations of similar sentences, which I could use as-is, or edit. It included a terminology management tool. I tend to have pretty good memory for details, and I usually remember all of the terminology I used for a given project, at least while I'm still on the project. I still found this very helpful. Over the years these tools have seen some improvement. They're often touted as tools suitable mostly for texts that have a lot of repetitions, or boilerplate text. Such as technical, legal,financial. However, these tools offer something which I found so useful to translation, that I used them also on texts where I don't expect the TM functionality to be of any use.
Unlike a word processor, which is a pretty generic writing tool, a TM is a translator's tool. It shows the source and target side by side. It tracks your work – you can see how much you've done. Terminology management is beneficial to many types of texts. Even a decent sized books of speculative fiction needs consistently terminology, and it would no doubt be useful for the indecently sized contemporary fantasy epics. Most importantly, the TM interface is designed specifically for the translation process. A word processor's is an everyman's writing tool. It's useful. It gets the job done. It's too generic for some professions. A TM, on the other hand, is a translator's tool.
Related Posts via Taxonomies